Opportunities
Please let UKADR know if you would like to advertise a research or academic position, or are aware of research grant opportunities.
Academic and research positions being advertised by UK and international partners
Call for Submission — Policy Briefs for DRR Edition of Youth SPI Publication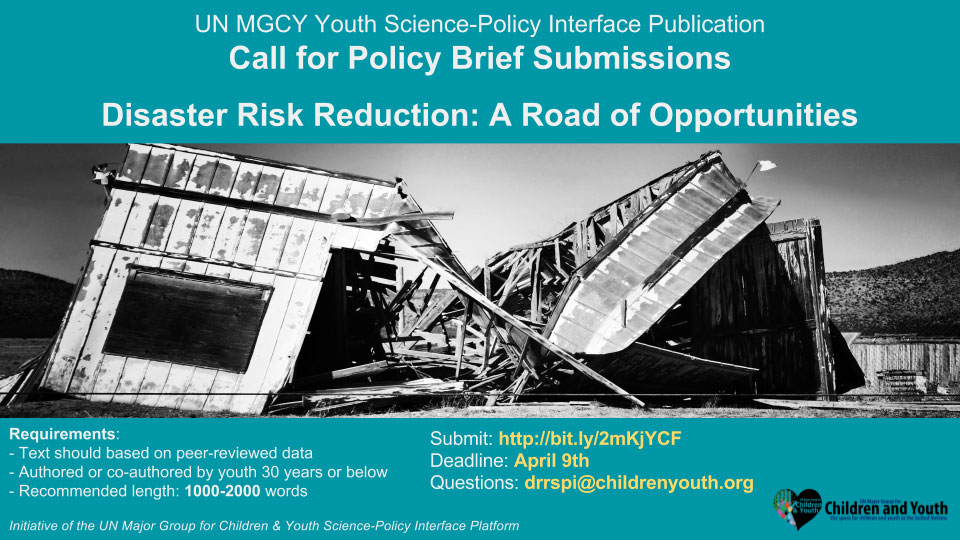 Are you 30 or below and engaged in the field of Disaster Risk Reduction? Share your passion and contribute by submitting a policy brief to the UN MGCY Youth Science-Policy Interface Publication- DRR Edition, to be launched at GPDRR 2017.
HIF WASH Challenges: Open Now
Challenge: user-centred sanitation design through rapid community engagement
We're launching a new Challenge to understand how to design, implement, and evaluate approaches to user-centred sanitation that incorporate rapid community engagement and are appropriate for the first stage of rapid-onset emergencies.
Call for a:
Research and Evaluation Partner: deadline 10 March
Dissemination Partner: deadline 7 April
Rapid Community Engagement Projects: deadline 28 April
PhD Scholarship NZD32,000 pa available for three years (2017–2019) at Massey University, New Zealand
Opportunity to undertake PhD research with a focus on governance, coastal hazard risk and resilience.
Contribute to the National Science Challenge: Resilience to Nature's Challenge (NSC: RNC), which funds the Scholarship, focusing on Governance, Coastal Hazard Risk and Resilience.
Advance understanding about the nature of resilience governance with a focus on building the resilience of coastal communities. Critically analyse the interconnections between risk, resilience and sustainability with a focus on institutional barriers and enablers for translating scientific knowledge and policy provisions into practical reality. The study will contribute to NSC: RNC case study research underway in the Hawkes Bay, New Zealand.
The scholarship recipient will be supervised by Prof. Bruce Glavovic and be based at the Palmerston North campus of Massey University.
Research grant calls open to UK-based researchers